The Medici Warrior Series
These six novels portray a serial story that must be read in sequence.
"Riveting", "electric", and hailed as "the NEXT BIG THING", The Medici Warrior Series follows the exploits of a vampire dynasty that spans four generations in a multi-genre novel with elements of paranormal, smoldering slow-burn romance, and historical fiction.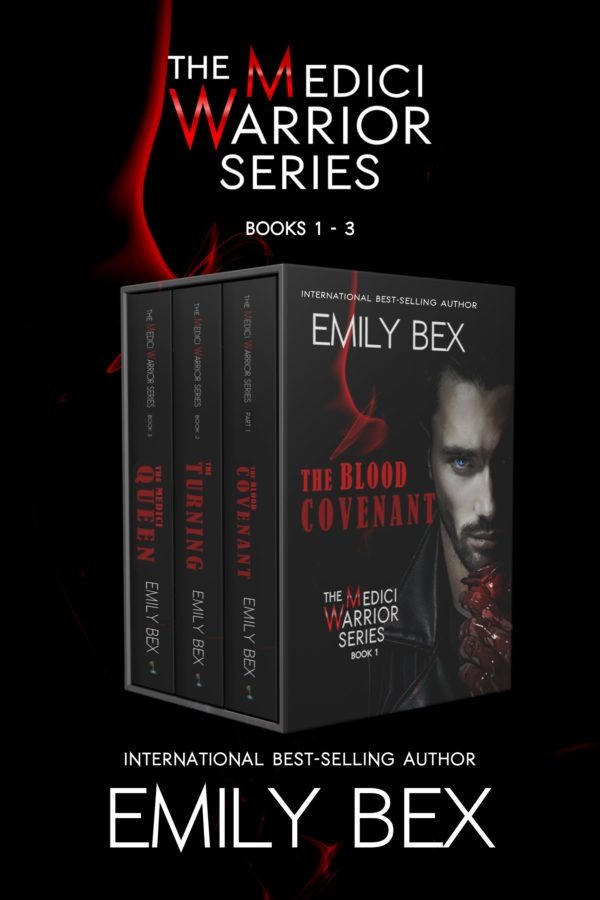 The Medici Warrior Series is featured on the Best Paranormal Romance Series list on Goodreads!
Start this Bestselling series at a discount! 
In this boxed set, featuring the first three novels of the six-book Medici Warrior series, JR Ward, Christine Feehan, and Sherrilyn Kenyon fans will become enchanted with this deliciously dark and scandalous story by International Bestselling Author Emily Bex. It's everything vampire romances should be made of!
"Blood Covenant combines the hedonistic jet-setting pleasures of BILLIONAIRE ROMANCE and the dirty little secret thrills of a DEAD SEXY VAMPIRE!" – Katalina Leon, USA Today Bestselling Author
When he met her, he knew how it would end.
Shade Medici, a warrior king and sole male heir to the dynasty, is expected to mate and produce an heir to secure the continuation of the Medici coven. He's waited over five hundred years for the right mate, and when he meets Kate Reese, his attraction is more than primal – it's merciless.
She's also mortal.
Kate is fresh off a broken engagement and reluctant to open her heart, but her hesitations are no match for the unrelenting pursuits of the vampire King. Their passion for each other is searing…and not everyone is happy about it. Namely the ruling Council.
As they fight against deceit, treachery, and those who aim to see their love fail, Shade also struggles to control his impulses as Kate is immersed into his dark and dangerous world, but it's imperative he prepare her for the changes that will be demanded of her should she choose to bind herself to him through the blood covenant. All that scorches and glitters isn't gold, and she quickly learns that falling in love with a vampire King comes at a hefty price:
It may just cost her everything.
This second installment in a vampire saga will draw you in from the first page to the spellbinding end.Immortality beckons.
Unable to escape crushing grief, Kate needs an outlet to channel her anguish. Turning to Luca, she pleads to be trained to fight like a warrior, but such a thing is in direct violation of Shade's commands. If she can get Luca to agree, her training must be done in secret. Unfortunately, any training is too little too late.
Intent on crushing Shade, the Aries coven is pressing in on him from all sides. Shade's only weakness is Kate, who becomes their perfect bait.
While Kate has been made stronger, as long as she's mortal, her life is in peril. But going through the turning to become immortal would be a big gamble to her survival.
So many decisions, too many obstacles.
There are new beginnings for the ancient Medici vampire coven.
The sexy, powerful King Shade Medici intends to increase his coven and territories to include the U.S. The new Medici Queen proves she can hold her own beside her king. She carries rare abilities believed extinct by the vampire community. She also possesses something never seen in the vampire world. What will it mean to their kind?
A male heir must be produced to carry on the Medici line. The royal couple has many new plans in business to advance their hold in the States. Not everyone is happy about it. The sprawling Medici estate is a threat to its neighboring coven, controlled by Max. Their lifestyle is Rissa's greatest envy.
Secrets will be revealed, old scores will be settled, and many will fall.
"Scorching", "riveting", and hailed as "the NEXT BIG THING", The Medici Warrior Series follows the exploits of a vampire dynasty that spans four generations in a multi-genre story with elements of paranormal, smoldering romance, and historical fiction. Get this three-book boxed set today! Your vampire king is waiting…
In The Bohannon Witches series, Emily Bex detailed what the sister witches were cooking up in the kitchen, which brought about the idea of this companion cookbook.